Maintenance of an Artificial Soccer Pitch
To be able to enjoy your artificial soccer pitch for as long as possible, maintenance is important. In areas with the most intensive activity on the pitch, the filling material (rubber/cork/etc.) is often not evenly distributed. This is especially true for the goal area, the penalty area, and around the penalty spot. In addition, dirt may also enter the pitch. Organic material such as leaf remnants, hair, weeds and mosses may pollute the pitch. Naturally, this requires (regular) maintenance.

In case of annual maintenance, we will thoroughly clean the pitch and return the filling material (rubber/cork/etc.) to the right level. A second method is to revitalize the artificial soccer pitch.
Process
For annual maintenance activities, we have our own professional maintenance machine. This machine brushes the higher-lying filling material between the fibres onto a sieve plate, on which the coarse dirt remains. The filling material is simultaneously exposed to a vacuum, whereby everything lighter than the filling material is removed and collected in a filter box. The clean filling material then falls back onto the pitch.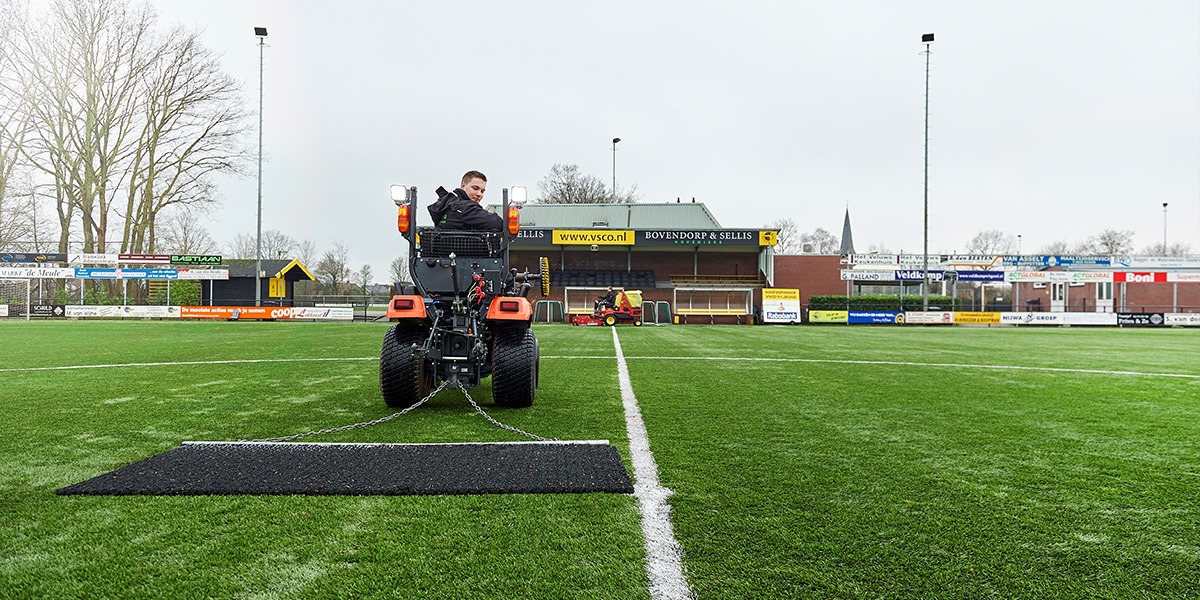 Smoothing
After cleaning, we will smooth out the filling material with a tractor and brush. If necessary, we will add extra filling material to the pitch.


Revitalization
This method is applied when a soccer pitch is rejected for failing to meet the technical standards of the sport. Damping is especially important here. All pitches harden over the years, as a result of which damping decreases. With this method, we will first remove the rubber so that it can be used again. When revitalizing the pitch, we adjust the rubber/sand ratio. In this way, we can return the technical characteristics of an old pitch back to the level of a new pitch.